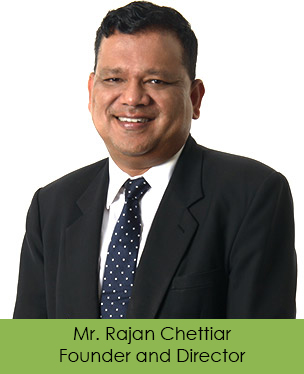 Rajan Chettiar is a barrister-at-law from the United Kingdom and an Advocate and Solicitor of Singapore since 1997. He was trained in one of the oldest and largest law firms in Singapore for six years before he set up Rajan Chettiar & Co in April 2003 which is today known as Rajan Chettiar LLC. Family Law is something very close to his heart as he had a vision of how family law ought to be practiced. He believed that a good lawyer ought to consider the unique needs and circumstances of each of his clients and offer solutions suited to them, be it reconciliation, counselling, negotiation, mediation, collaborative family practice and litigation. He continues to practice this today and inculcates this value to the rest of the firm.
Rajan was one of the earliest lawyers to become trained in mediation. He became an accredited mediator of the Singapore Mediation Centre in 2008. He is an Associate Mediator with the Singapore Mediation Centre, a Volunteer Mediator in the State Courts' Centre for Dispute Resolution and Family Justice Courts' Child Focussed Resolution Centre and the Community Mediation Centre. He is also a private mediator where he acts as mediator in disputes. Rajan Chettiar is one of the first two collaborative lawyers in Singapore trained at Monash University. He successfully handled the first collaborative case in Singapore in 2013. He is also a Court-appointed Child Representative who assists the Family Justice Courts in resolving child custody issues. Pro-bono work is something that he encourages his firm to take part in and he personally takes up cases referred by the Pro Bono Office of the Law Society of Singapore and participates in legal clinics run by the Family Justice Courts and the Community Justice Centre.  He is also a Primary Justice Lawyer, an initiative set up by the Community Justice Centre to offer legal advice and information on alternate dispute resolution services. Other than legal work, Rajan is involved in the community and has been involved in the disabled cause in Singapore since 1995.  He is an active volunteer in the Law Society of Singapore and a past member of the Council of the Law Society of Singapore.  He also volunteers in the Singapore Academy of Law, Centre for Family Harmony (a voluntary welfare organization handling child access cases) and at SPD (formerly known as the Society for the Physically Disabled).
Rajan Chettiar is a regular contributor of the monthly column, Alter Ego in The Singapore Law Gazette.
+65 6394 9722

rajan.chettiar